Back
Body Parts
Shoulder
More than any joint in the human body, the shoulder grants the widest range of motion. You could not, for example, scratch your back, raise your hands in the air, or throw a ball without counting on your shoulder to move and align accordingly. At UOC, we have more shoulder-trained specialists than any other orthopedic group in the surrounding region, including surgeons who are sports medicine fellowship-trained and shoulder fellowship-trained. Our shoulder specialists not only share their knowledge and expertise with our patients, but also with local athletes, including those associated with our region's beloved Minor League Baseball team, Altoona Curve. They are dedicated to learning about all the latest advancements in shoulder care and are registered members of the American Shoulder and Elbow Society; Mid-Atlantic Shoulder and Elbow Society; Arthroscopy Association of North America; and American Orthopedic Society for Sports Medicine. Given our specialists' experience and expertise, you can trust them not to "shrug off" any pain you're experiencing and any concerns you may have about your shoulder condition and treatment plan.

Common Symptoms
An injury or a developing condition can result in significant pain and dysfunction in and around the shoulder area. If you are currently experiencing one of more of these symptoms, we encourage you to schedule an appointment and learn more about all the ways in which our friendly and knowledgeable team can help.
Common symptoms associated with shoulder conditions include, but are not limited to:
Pain in the shoulder while performing basic tasks
Pain reaching overhead or behind back
Pain associated with shoulder weakness
Numbness
Tingling
Decreased range of motion
Shoulder pain related to acute trauma
Nocturnal pain that affects sleep
If your shoulder has lost even a fraction of its impressive range of motion, it's important to take note of any and all symptoms you are experiencing so you can discuss them with one of our specialists during your initial visit.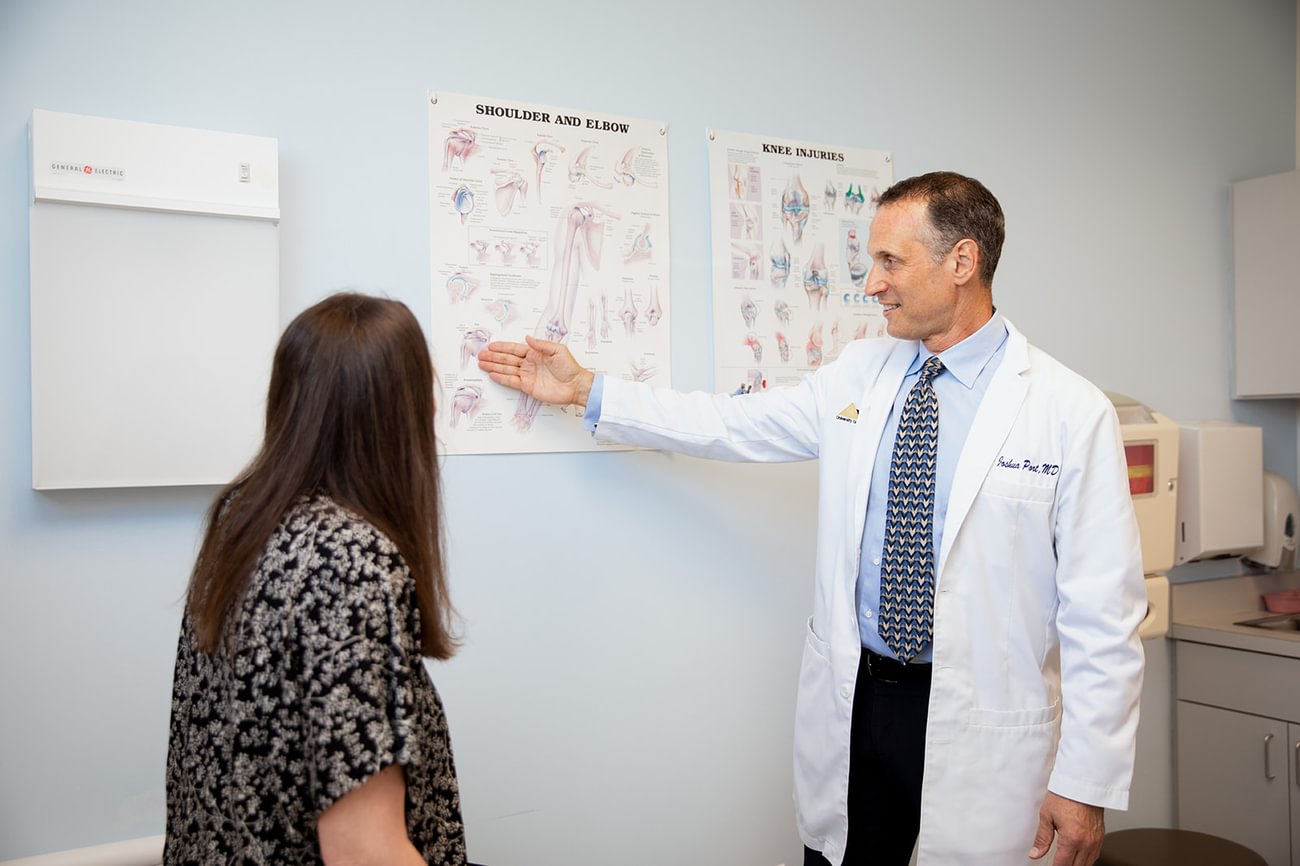 Common Conditions
Athletic injuries and traumas often result in shoulder dislocations; both young people as well as senior citizens are prone to shoulder fractures. No matter your condition, we have the tools and resources necessary to solve the problem and get your shoulder back to functioning at its best.
Common shoulder conditions include, but are not limited to:
Rotator cuff tear
Ligament tears
Tendonitis
Arthritis
Anterior shoulder dislocation with recurrent instability
Subacromial impingement (often associated with acromioclavicular joint osteoarthritis)
Glenohumeral osteoarthritis (and, less commonly, rheumatoid glenohumeral arthritis)
Glenoid labral tears, including SLAP tear, calcific tendonitis, and adhesive capsulitis
We want our expertise in treating a wide range of shoulder conditions to help put you at ease. You deserve to know the "ins and outs" of your specific condition, and our specialists will be happy to discuss any shoulder-related questions or concerns you may have.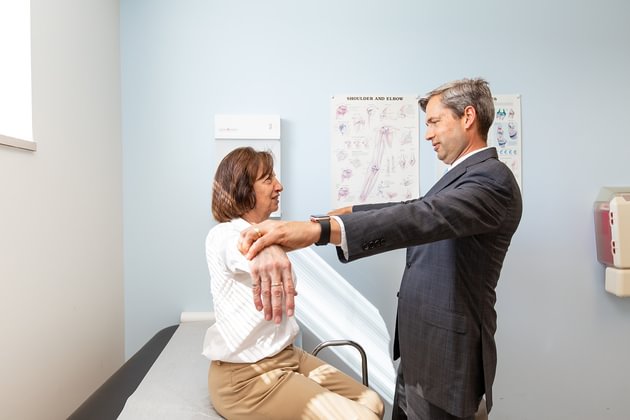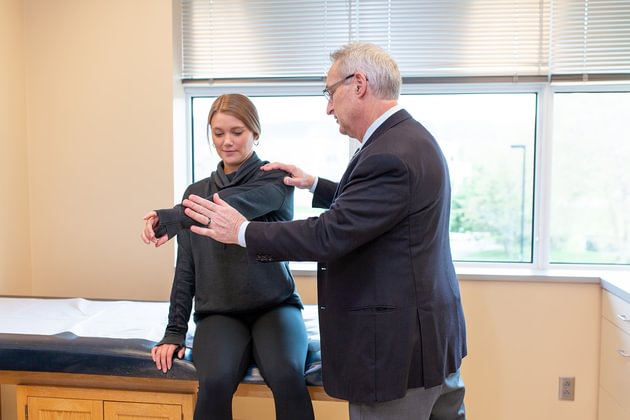 Diagnosis & Treatment
We utilize high-level ultrasounds to help diagnose shoulder injuries and conditions, and our fellowship-trained physicians are uniquely qualified to repair even the most complex shoulder conditions using the latest surgical techniques.
We are also proud to have occupational and physical therapists on our team who utilize blood flow restriction therapy. This type of therapy is proven to accelerate recovery times for those experiencing shoulder and upper extremity injuries/conditions, as well as those whose conditions have required surgical treatment.
Shoulder injuries and conditions can be treated surgically and non-surgically, depending upon your specific diagnosis and its severity level.
Non-surgical treatments include, but are not limited to:
Anti-inflammatory medications
Physical therapy
At-home exercise programs
Blood flow restriction therapy
Ultrasound-guided injection therapy
Stretching and supervised strengthening
Shoulder arthroscopy
Distal clavicle excision
Surgical treatments include, but are not limited to:
Arthroscopic repair and reconstruction
Arthroscopic biceps surgery
Total shoulder replacement
Reverse total shoulder replacement
Acromioclavicular joint dislocation reconstruction
Open reduction and replacement
Arthroscopic release
Shoulder stabilization procedure (Bankart repair, labral repair, or SLAP repair)