Spine Institute Overview
The purpose of UOC's Spine Institute is to provide comprehensive evaluations and treatments for patients suffering from soft tissue injuries, acute neck and back pain, disc injuries and disorders, and more. Our spine specialists can treat spinal conditions and injuries using a combination of non-invasive integrated chiropractic and physical therapies; minimally invasive nerve blocks; advanced therapies (such as nucleoplasty); and state-of-the-art surgical treatments. UOC's Spine Institute team is rounded out by a comprehensive support staff of allied health providers, including massage therapists and spine certified physical therapists. Whatever your reason for scheduling an appointment at UOC's Spine Institute, you will receive a thorough evaluation and a customized treatment plan. Our individualized treatment plans outline what you can do and how we can help resolve your spinal issues without delay.
The Spine Institute is housed in our State College location at 476 Rolling Ridge Drive. Hours are 8 am to 5 pm Mondays through Fridays.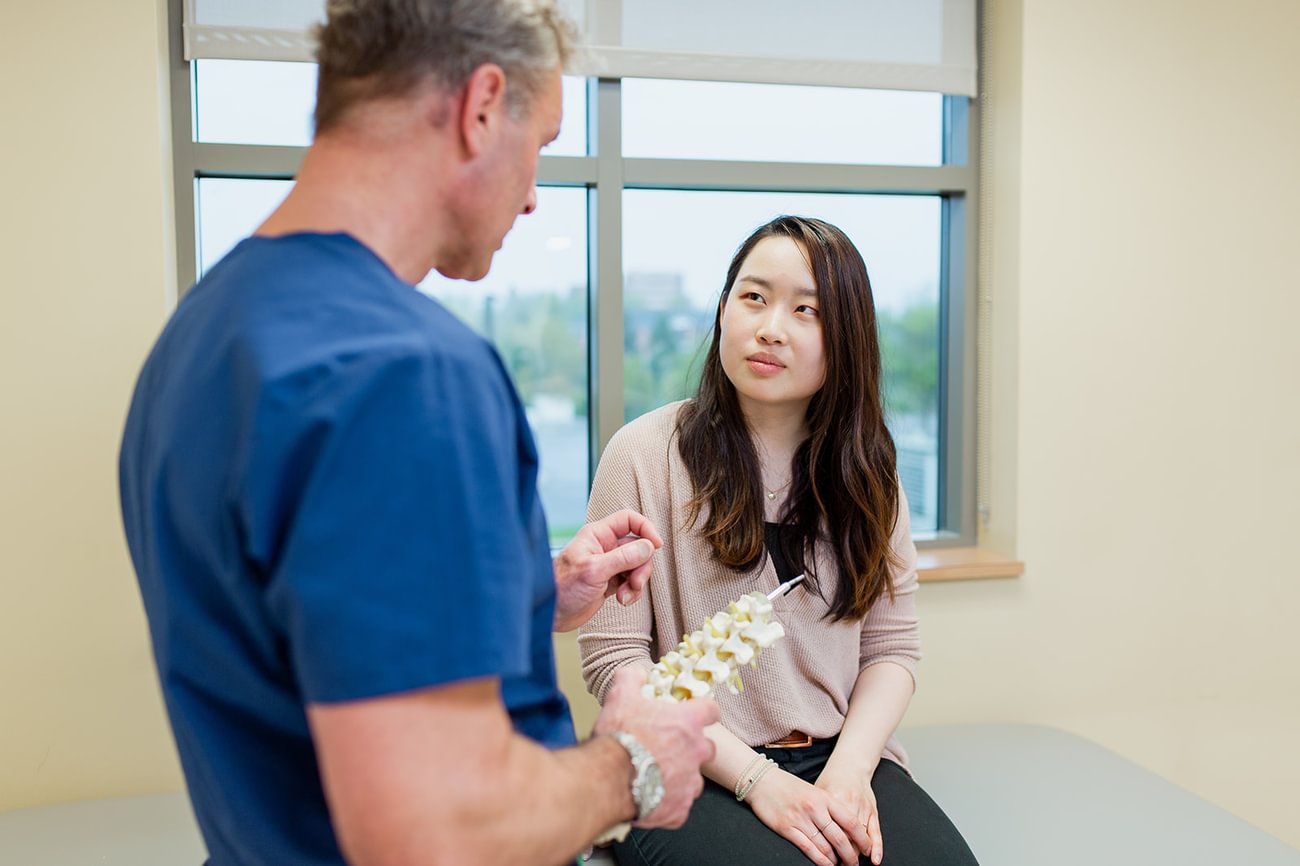 Diagnosis & Treatment
Our Spine Institute specialists are accustomed to diagnosing and treating a wide range of spinal conditions and injuries. These include conditions such as degenerative disc disease and herniated discs. However mild or severe your issue may be, we encourage you to be seen as soon as possible. A spinal condition or injury can be debilitating, and your symptoms can potentially worsen over time if left untreated.
When you visit UOC's Spine Institute, you can expect our team of specialists to work hard to offer you both short-term and long-term relief from spinal pain and discomfort; based on your diagnosis, they will discuss the benefits of chiropractic care, anti-inflammatory medications, physical therapy, and/or injections, among other treatment options that would be most beneficial to you.
At UOC, we order tests only when necessary. For your convenience, we can utilize our wide range of on-site diagnostic services, including magnetic resonance imaging (MRI). We also offer custom-fit braces from DonJoy Back Braces as well as X-Med Vista Cervical Collars.
If you have reason to believe that you are suffering from a condition or injury related to the cervical, lumbar, and/or thoracic area of the spine, please do not hesitate to schedule an appointment at the Spine Institute today. Our specialists recognize how important a role the spine plays within the body; allow them to explain and identify all the unique ways in which you can strengthen your body's central support structure.
Spine Institute Specialists