Back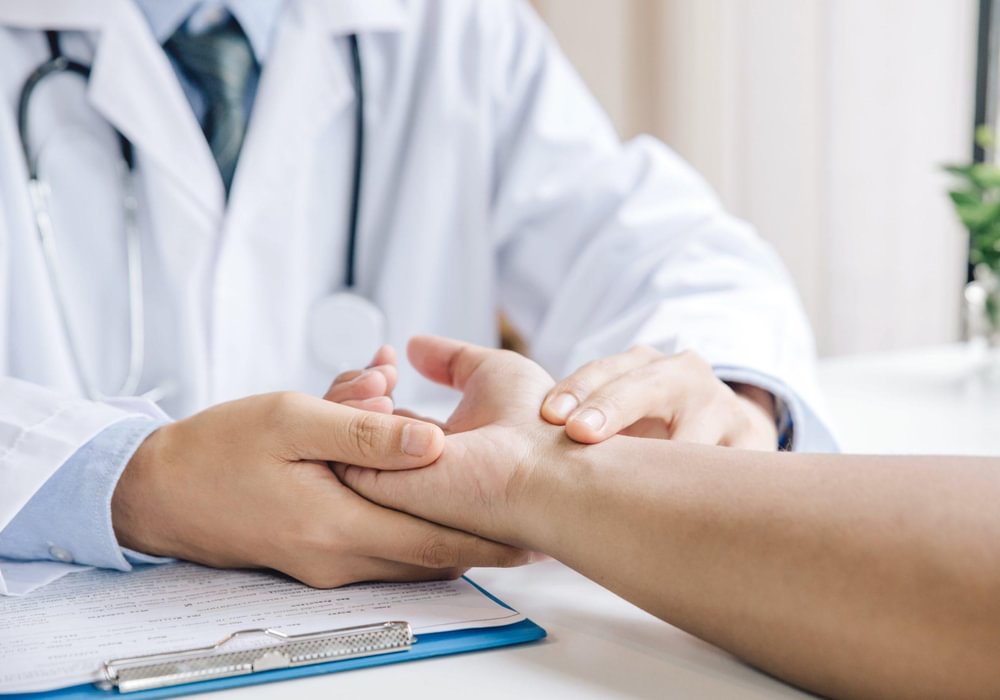 University Orthopedics Hand Center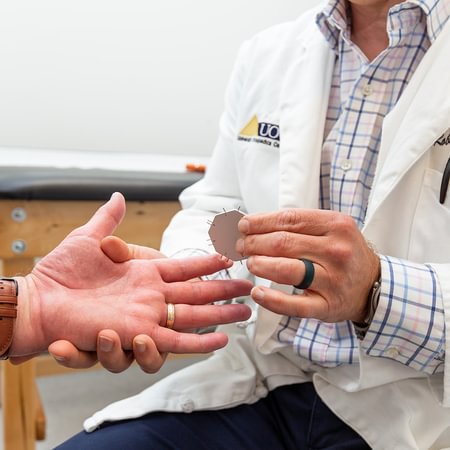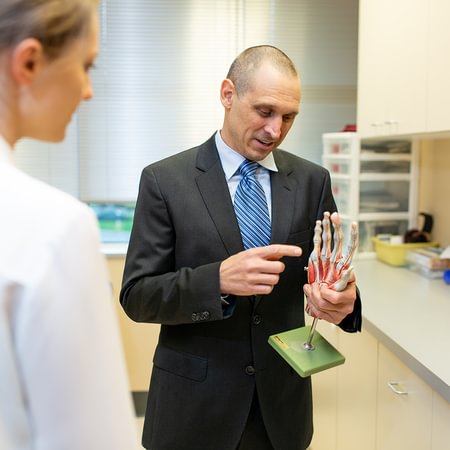 About Our Practice
At the UOC Hand Center, a highly skilled and educated team of board-certified doctors, surgeons, and physician assistants diagnose and treat conditions of the hands and upper extremities. With three convenient offices in State College, Altoona and DuBois, patients receive quality comprehensive care for many conditions and ailments affecting their hands and wrists.
To learn more about the comprehensive orthopedic services available at the UOC Hand Center, call or schedule an appointment online today.
Common Hand and Wrist Conditions
Your hands are prone to traumatic injuries, such as dislocations and fractures, due to how often we use them. Even repetitive motions at work or during recreational activities can lead to common overuse disorders characterized by chronic pain.​
Some of the most common hand and wrist conditions that we treat at UOC are:
Hand and Finger Fractures
Wrist, Forearm, and Elbow Fractures
Elbow Dislocations
Carpal Tunnel Syndrome
Cubital Tunnel Syndrome
DeQuervain's Tenosynovitis
Biceps and Triceps Tendon Ruptures
Dupuytren's Contracture
Flexor and Extensor Tendon Lacerations
Nerve Lacerations
Fractures in Children
Ganglion Cysts
Hand and Wrist Tumors
Hand Infections
Fingertip and Nailbed Injuries
Finger and Thumb Arthritis
Hand, Wrist, and Elbow Arthritis
Trigger Finger
Traumatic Amputation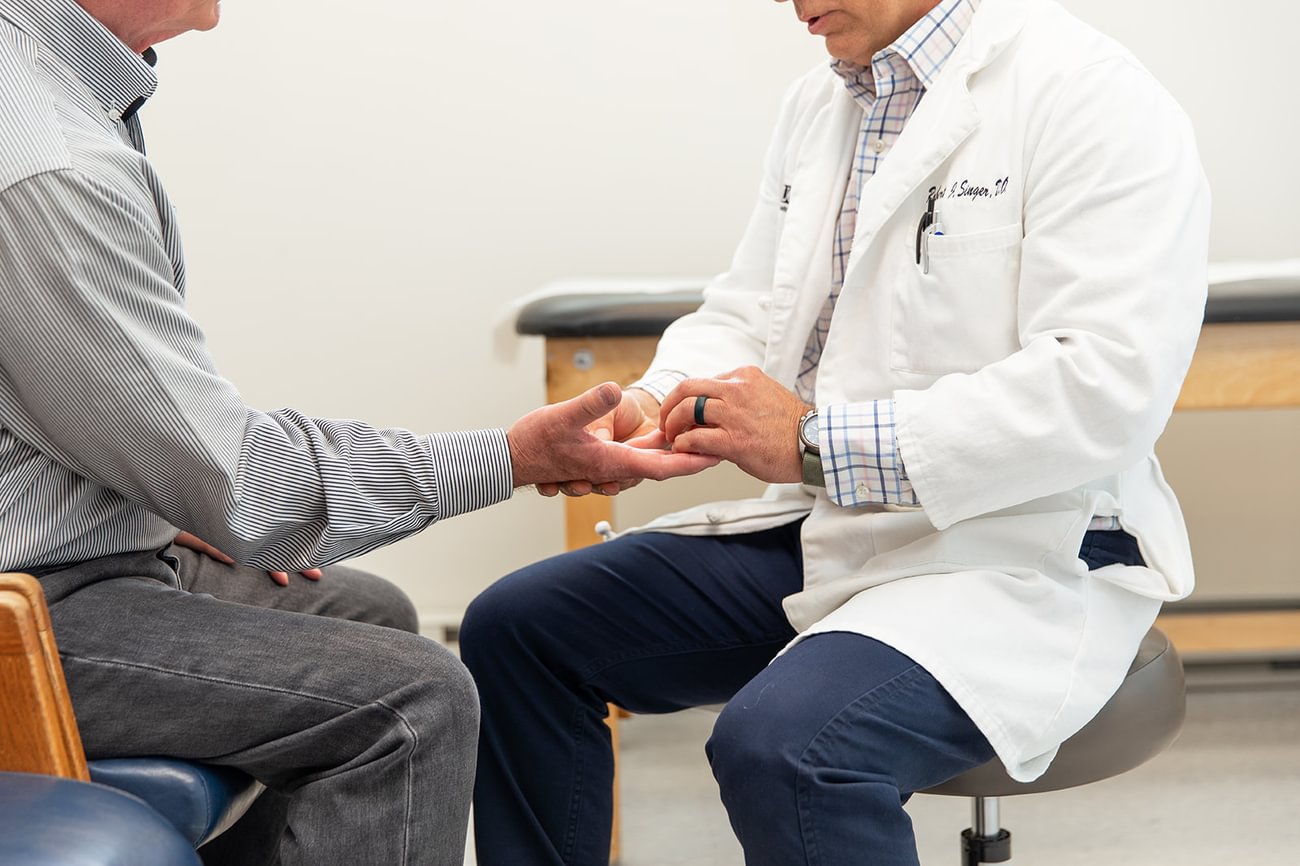 Common Hand and Wrist Treatments
At UOC, our hand and wrist physicians believe in providing the best patient care and treatment plan for your hand and wrist condition.​
See the range of hand and wrist pain and injury solutions at UOC:​
Wrist and Elbow Arthroscopy
Tendon and Nerve Transfer Surgery
Elbow, Wrist, Hand, and Finger Arthritis Surgery
Minimally Invasive and Endoscopic Surgery
Hand Mass/Tumor Excision
Tendon and Ligament Repair and Reconstruction
Nerve Repair and Reconstruction
Dupuytren's Fasciectomy and Xiaflex Collagenase Injections
Carpal Tunnel Surgery
Carpal and Cubital Tunnel Release
Trigger Finger and DeQuervain's Release
Elbow, Forearm, Wrist, Hand, and Finger Fracture Treatment
Elbow Fracture-Dislocation Surgery
Pediatric Fracture Treatment
Certified Hand Therapy
Care Team
Physician Assistants
Anthony Damin, PA-C
Shawn L. Kibe, PA-C
Erin Veneziano, PA-C
Anesthesiologist
Dr. John Giustozzi ​
Certified Hand Therapists
Joe Brescia
Michelle Fenush
Mark Myers
Kelly Redding
Nurses
Tessa Foster
Amy Smola
Brynja Winnan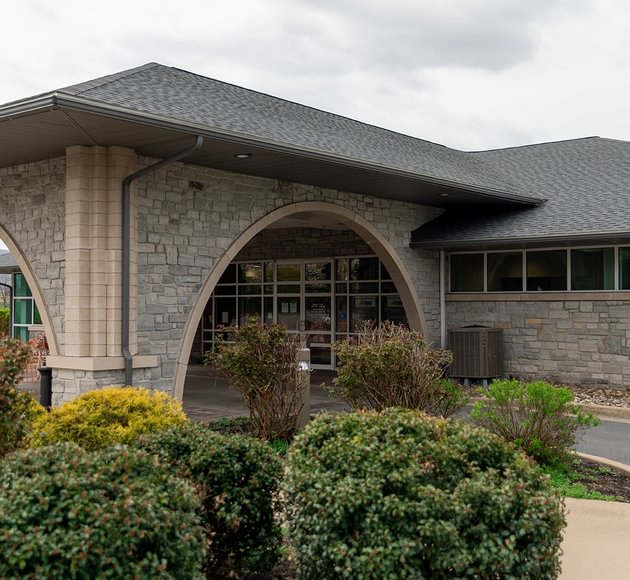 Locations
State College
101 Regent Court​
State College, PA 16801​
Altoona
3000 Fairway Drive​
Altoona, PA 16602​
Johnstown (Dr. Robert Singer)
1450 Scalp Avenue, Suite 301 (Located in the Conemaugh East Hills Memorial Medical Center)
Johnstown, PA 15904​
DuBois
90 Beaver Drive​
Suite 211D​ DuBois, PA 15801​​
Reedsville
96 Kish Rd
Reedsville, PA 17084
Dr. Eisenhuth listened very well. Not just about the problem I am having with my hands but also about me—my preferences, fears, what I know and like to know, etc. He took time to answer the many questions I usually have. He is kind, respectful and extremely competent in his job. I cannot say enough good things about him.
1 – 4
Dr. Lincoski is a fantastic surgeon. His entire staff was also wonderful. They ALL were compassionate and very sensitive to my daughters needs. He set my mind at ease taking care of my 16 year old daughter in surgery. I highly recommend Dr. Lincoski and University Orthopedics. The entire staff was wonderful!!!!
2 – 4
I've had 2 recent hand surgeries by Dr. Singer and follow up care with Anthony Damin as well as PT with Mark Meyers, all from UOC. I can honestly say I have never had better care. From beginning to end, I was well informed of procedures, post-op care, and home therapy. I am back to 100% with no pain. These guys are AWESOME!
3 – 4
I received amazing care from my hand surgery to the physical therapy. Everyone was very helpful and they took great care of me. Would definitely come back if surgery is needed again.
4 – 4