Back
Body Parts
Foot & Ankle
When it comes to the foot and ankle, the numbers say it all: thirty-three joints, twenty-six bones, thousands of nerve endings, and more than one hundred tendons, muscles, and ligaments—all working in unison to keep you stable, balanced, and on the go. Despite how strong and resilient your feet and ankles are, it's not uncommon for something to go awry. When that happens, you may be quickly forced into a sedentary state. For those who are used to being physically active, this can feel like a huge setback. At UOC, we understand that limited mobility caused by a foot or ankle injury or condition can change your everyday routine, disrupting your favorite physical activities. Allow our team of foot and ankle specialists at UOC to explain all the necessary steps we can help you take toward a recovery that we are confident you will find thorough in its approach and promising in its results.

Common Symptoms
If you have been diagnosed with arthritis, have difficulty walking, or are experiencing any of the following symptoms, we recommend contacting our office as soon as possible to schedule a thorough evaluation of your foot or ankle.
Common symptoms associated with foot and ankle conditions include, but are not limited to:
Pain
Swelling
Stiffness
Numbness
Inflammation
Instability
Soreness
Popping/snapping
The sooner you recognize your symptoms, the quicker our specialists at UOC can treat you, and you can resume a pain-free routine.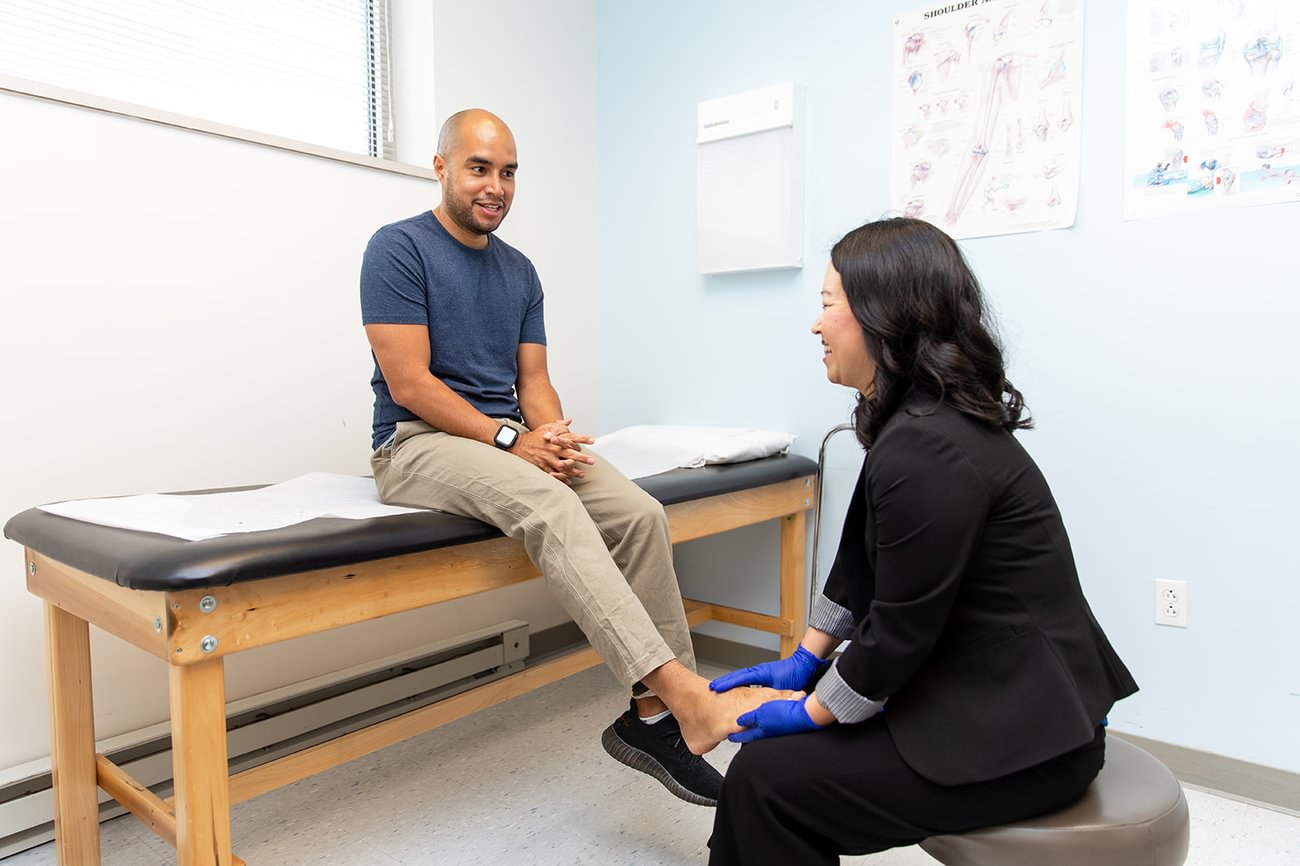 Common Conditions
Acute foot and ankle injuries often occur as a result of falling, tripping, or experiencing a sports or exercise-related injury. In addition, chronic conditions can develop as a result of overuse caused by repetitive movements.
At UOC, we are prepared to treat the following foot and ankle conditions (and more):
Achilles tendon injury
Adult acquired flatfoot
Ankle sprains
Bunions
Cavus foot (high-arched foot)
Diabetic foot (ulcers, wound care)
Heel bone, talus, and ankle fracture
Gout
Plantar fasciitis
Rheumatoid arthritis
Stress fractures
Tibial fractures
You can also reach out to us for issues related to deformities, such as clubfoot and hammertoe. Plus, we can address cases pertaining to ingrown toenails, corns, and plantar warts.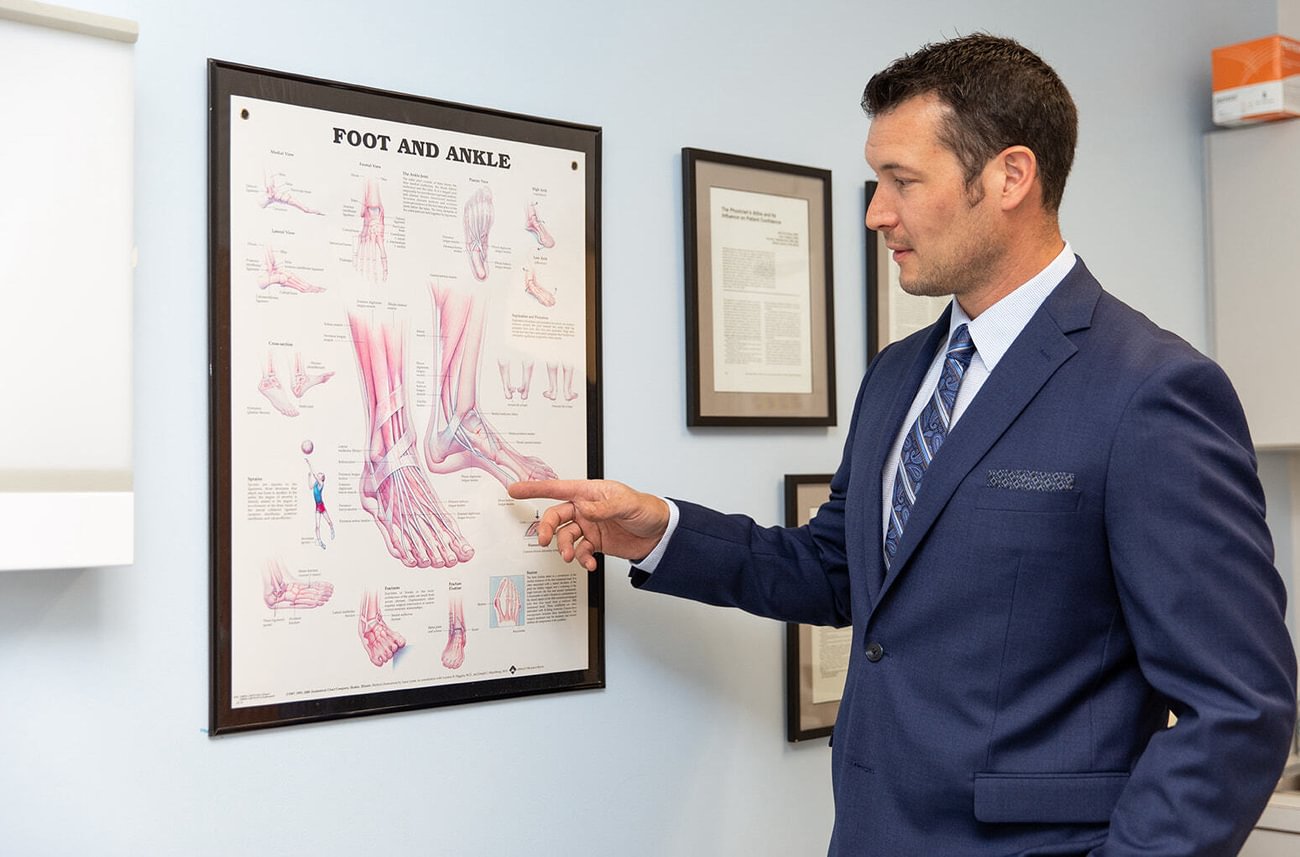 Diagnosis & Treatment
We consider the RICE method (rest, ice, gentle compression, and elevation) an effective self-care strategy until you can meet with a physician in person at a UOC location nearest you. After a physician can diagnose the problem(s) you are experiencing with your foot or ankle, they can create a recovery plan to help you regain strength, flexibility, and stability. It is imperative that your condition is correctly diagnosed and properly treated so you can avoid additional issues from possibly occurring in the future.
Foot and ankle conditions can be treated surgically and non-surgically, depending upon your specific diagnosis and its severity level.
Non-surgical treatments include, but are not limited to:
Anti-inflammatory medications
Bracing
Physical therapy
Surgical treatments include, but are not limited to:
Absorbable antibiotic bead treatment for osteomyelitis
Achilles tendon lengthening
Achilles rupture repair
Ankle fusion
Ankle replacement
Bunion correction
Debridement of the Achilles
tendon
Diagnostic ankle arthroscopy
Excision of soft tissue masses
Lateral ankle ligament reconstruction
Partial nail removal
Plantar fascia release
Total ankle joint replacement
Our trained and knowledgeable team at UOC will use every tool and resource available to address the problem, ensuring that you have come to the right place for the most effective, proven, and customized treatment plan.