Back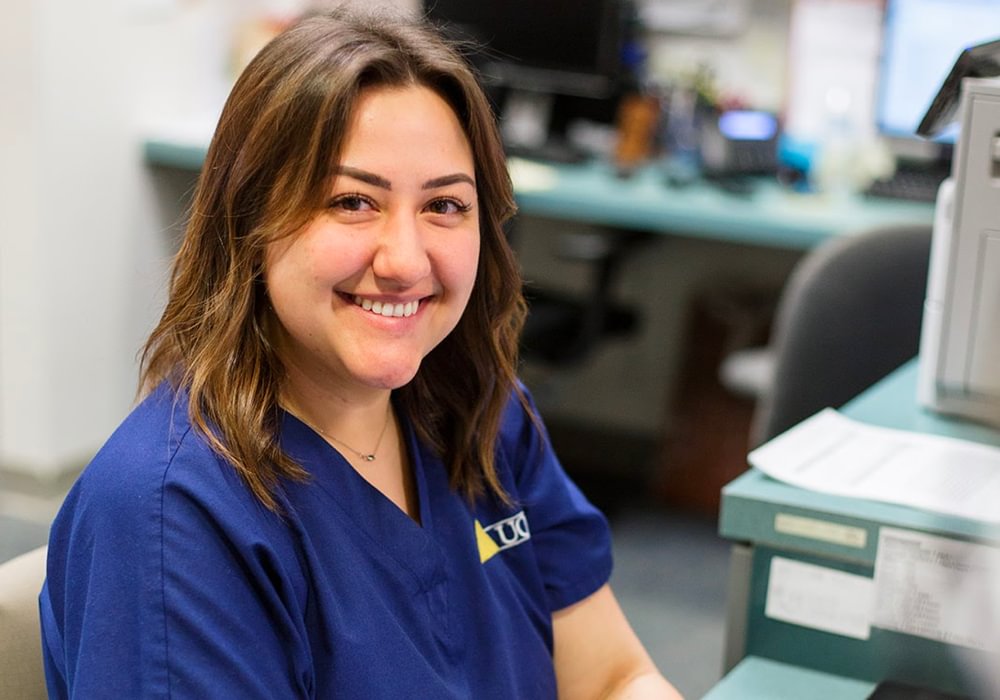 Patient Resources
Billing and Insurance
Billing
Affordable care is achievable at UOC. If you incur a balance with UOC, our billing department will work with you to create a payment plan that best suits your financial situation. For your convenience, UOC will send you monthly statements. We accept various forms of payment including cash, personal check, Visa, MasterCard, Discover, and debit cards. With authorization, we can maintain your credit card information on file for payment of future charges.
Disclaimer: We are continuously working on expanding our list of insurance providers accepted at UOC. At this time, we do not accept all forms of UPMC insurance plans. For the quickest assistance regarding insurance, we recommend contacting a team member to find out if UOC accepts your insurance.
Accepted Insurances
The University Orthopedics Center accepts a range of insurances so your orthopedic needs can be taken care of with ease. The insurances accepted at our practice are frequently updated; however, we are limited to the networks. If you may have any questions about specific products offered by the insurance, we advise that you contact the insurance company directly to understand your coverage thoroughly and identify in-network providers.
Aetna
Aetna Better Health
Amerihealth Caritas
Capital BlueCross
Cigna
Coventry/Health America
Devon (Now Three Rivers Health Plan)
DOL/OWCP (Federal)
Gateway
Geisinger
Highmark
Medicaid
Medicare
OH Work Comp
Preferred Healthcare Systems
RR Medicare
TriCare (Non Network)
United Healthcare (Comm & State Commercial)
UPMC
Understanding Your Insurance
At UOC, we know that sometimes healthcare costs and insurance can leave you feeling overwhelmed. Our mission is to provide you as much assistance in this area as you need, helping you understand your bill and making sure you receive the proper insurance payment.

When you call 1-866-286-2261 for billing questions, we ask that you have your account number handy so we can help you right away. You can find your account number on your billing statement.
If your insurance provider requires a referral, please review the following instructions to help prepare for your visit at UOC:
The patient is responsible for having the primary care physician (PCP) send the referral to our office in advance of the scheduled appointment at UOC.
If the patient has received a written referral from the PCP, we ask the patient to bring the referral to the scheduled appointment.
If UOC does not receive a referral from the PCP prior to your appointment, or the patient does not have a written referral upon arrival, unfortunately, UOC may not be authorized to see you.
Failure to obtain a referral or authorization from your PCP before seeing a UOC specialist may result in uncovered charges and rescheduling your appointment.
Often, an insurance company will not allow a patient's PCP to authorize the visit after the fact.
Even though the PCP may give the patient a written order for testing or a referral, we recommend that the patient verifies that the services are covered in their insurance plan with the insurance provider.
Our physicians will always provide our patients the best possible care. Physicians are not required to review a patient's specific insurance policy when providing treatment and are unaware of what care options are included in a patient's insurance plan.

If you have any questions regarding your insurance coverage or eligibility, you should call the toll-free phone number on the back of your insurance card to get the most recent information. We strongly urge that you are aware of the requirements and limitations of your health insurance plan. By doing so, you'll understand what services may be out-of-pocket expenses, eliminating frustration later on. In addition, managed-care plans have many rules that you and your physician must follow.
Co-Pays
Your insurance provider does require UOC to collect your co-pay at the time of your office visit. Co-pays are different set amounts depending on the type of insurance plan. Your co-pay amount is subject to change depending on the service or procedure that a UOC team member may provide during your visit.
We ask that all outstanding balances are paid before your next visit. If not, you may not be scheduled until UOC has received payment.
We accept all methods of payment, including cash, check, debit card, and credit card. For all checks that do not clear, there will be a $25.00 fee charged.

Your Rights and Protections Against Surprise Medical Bills
When you get emergency care or get treated by an out-of-network provider at an in-network hospital or ambulatory surgical center, you are protected from surprise billing or balance billing.
What is "balance billing" or "surprise billing?"
When you see a doctor or other health care provider, you may owe certain out-of-pocket costs, such as a copayment, coinsurance, and/or a deductible. You may have other costs or have to pay the entire bill if you see a provider or visit a health care facility that isn't in your health plan's network.
"Out-of-network" describes providers and facilities that haven't signed a contract with your health plan. Out-of-network providers may be permitted to bill you for the difference between what your plan agreed to pay and the full amount charged for a service. This is called "balance billing." This amount is likely more than in-network costs for the same service and might not count toward your annual out-of-pocket limit.
"Surprise billing" is an unexpected balance bill. This can happen when you can't control who is involved in your care—like when you have an emergency or when you schedule a visit at an in-network facility but are unexpectedly treated by an out-of-network provider.
You are protected from balance billing for:
Emergency Services
If you have an emergency medical condition and get emergency services from an out-of network provider or facility, the most the provider or facility may bill you is your plan's in network cost-sharing amount (such as copayments and coinsurance). You can't be balance billed for these emergency services. This includes services you may get after you're in stable condition, unless you give written consent and give up your protections not to be balanced billed for these post-stabilization services.
Certain Services at an In-Network Hospital or Ambulatory Surgical Center
When you get services from an in-network hospital or ambulatory surgical center, certain providers there may be out-of-network. In these cases, the most those providers may bill you is your plan's in-network cost-sharing amount. This applies to emergency medicine, anesthesia, pathology, radiology, laboratory, neonatology, assistant surgeon, hospitalist, or intensivist services. These providers can't balance bill you and may not ask you to give up your protections not to be balance billed.
If you get other services at these in-network facilities, out-of-network providers can't balance bill you, unless you give written consent and give up your protections.
You're never required to give up your protections from balance billing. You also aren't required to get care out-of-network. You can choose a provider or facility in your plan's network.
When balance billing isn't allowed, you also have the following protections:
You are only responsible for paying your share of the cost (like the copayments, coinsurance, and deductibles that you would pay if the provider or facility was in-network). Your health plan will pay out-of-network providers and facilities directly.
Your health plan generally must:
Cover emergency services without requiring you to get approval for services in advance (prior authorization).
Cover emergency services by out-of-network providers.
Base what you owe the provider or facility (cost-sharing) on what it would pay an in-network provider or facility and show that amount in your explanation of benefits.
Count any amount you pay for emergency services or out-of-network services toward your deductible and out-of-pocket limit.
If you believe you've been wrongly billed, you may contact the Pennsylvania Health Access Network helpline at 1-877-570-3642 for additional help on resolving your insurance bill. If you think you've been sent a bill you should not have to pay, you may file a complaint with the Pennsylvania Insurance Department at 1-877-881-6388.
Visit www.hhs.gov or www.cms.gov for more information about your rights under federal law. Visit www.insurance.pa.gov for more information about your rights under state law.